Show weekend with the A-litter!
2 days of show with the A- litter - 10 months old.
Great to see them and their owners together again!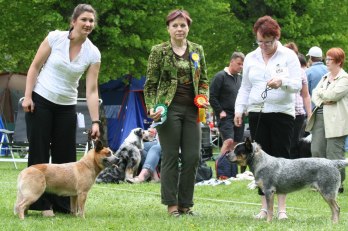 Saturday 26/5 we where at Österbybruk INT. - Uppsala. Judge for the day was Butkiene Jurate, Litauen. All got Excellent with CK, WM Another Dewil "Junior" became BOB with CAC and WM Absolutely Spot On "Rizla" became BOS with CAC.
We also showed them in breeders group: All 4 dogs looks very similar, all have correct expression for the breed, excellent dark eyes, excellent ears, sound bones, correct toplines, enough strong chest and forechest, good movers.
In the group Junior and I where shortlisted among the 6 last dogs!! Group judge: Melchior Marie-Josée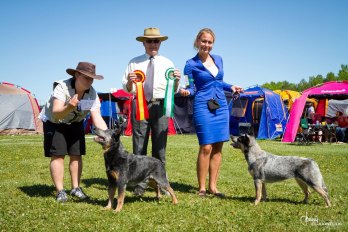 Sunday morning we left for Vallentuna INT. in stockholm.
Judge for the day was Strachan David, Australia.
All got excellent with CK exept for WM Ants in the Pants "Myran" that got VG but with a very nice critic, she has a slightly reversed scissor bite.

Breeders group: An excellent group, very typical of the breed, All have good balance, good overall body proportions, excellent typical heads, typical ears and ear placement, All dogs displaying typical cattle dog temperament.
WM Another Dewil "Junior" became best junior male with CAC and 2:nd best male after the champion male. WM Action My Attraction "Storma" became BOS and got a nother CAC.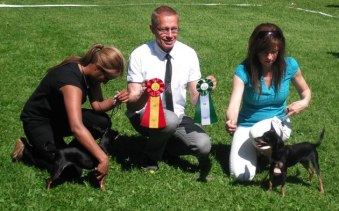 Rockys son Lex Murphy Czech Mate "Primo" was also showed!

Judge: Hans Almgren
Class: Junior
Result: Exc-1, CK, BM-1, CAC, BOS!
Comments: Appealing proportions between height and length. Just right length of nose. Beautiful pearshape of the head. Excellent stop, powerful jaws, excellent bite, strong teeth. Dry neck, good structure, straight front legs . Strong back, excellent angulations, dense coat, collected paws. Excellent expression that is enhanced by the placement of the ears. Separated tan markings. Moves with a good stride, good reach.