Rizla & Storma's first puppy show!
2012-01-14
« Back




Today both Rizla and Storma experienced their first puppy shows!
Both girls where very well behaved in the ring
and both became BOB and placed in the group!
Great work Emelie, Arnout & Rebecka!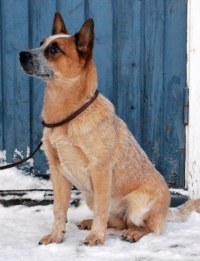 Working Mates Absolutely Spot On "Rizla"

Place: Malungs KK
Judge: Benny Blid von Schedvin
Well balanced puppy, niceley shaped head, good ears, normal neck, good proportions, good strong body for her age, a bit straight in front, good bone structure & angles, good movement, sufficient coat for age.
BOB & BIG- 3 puppy!

Video of Rizla in the ring!
Working Mates Action My Attraction "Storma"

Place: Newfoundlands club, Sollentuna Raketthall
Judge: Cindy Pettersson & Torbjörn Skaar - Group
Well proportioned wedge shaped head with good stop, Good ears, Dark eyes, still a puppy bite, Nice front, excellent neck and shoulder, good chest, lenght and volume, Wonderfully well angled hindquarters, Very stable in motion coming and going, Excellent movement.
BOB, BIG- 2 puppy!

Video 1- see the ending! Video 2- group Video 3- BIG 2
Maria • 18 januari 2012 15:06:55

GRATTIS!!! Båda tjejerna var ju jätteduktiga, men Storma är ju den jag hoppades att du skulle behålla så jag kan inte låta bli: VAD VAR DET JAG SA!!!!!??? =D
Kram! <3