AU CH NO UCH DK CH INT CH NO V-15 NORD V-15
Tagetarl JumPin Jack Flash
JACK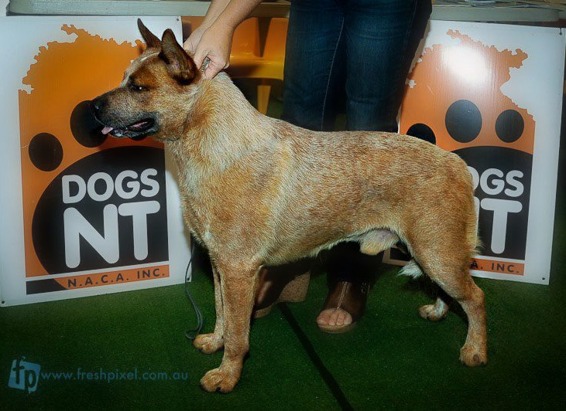 D.O.B. 2010-10-02
I have waited a long time for this special boy! Still can´t belive he is here!
Can´t thank breeder Carol & Steve Beckett enough!!
Some of his achievements in Australia

ACD Club of Victoria, Specialty Show
March 2011. Judge's critique:
Baby Puppy in Show #1
4 month red puppy. Strong impressive puppy of very good type, strong head with good expression. Good reach of neck and very good fore and hindquarter angulation, strong bone, balanced movement, moves well for his age.

At only 6 months of age he has already been awarded...
2 x BEST BABY PUPPY IN SHOW ~ including Baby in Show at the
Australian Cattle Dog Club of Victoria specialty, March 2011.
and no less than 4 x BEST MINOR PUPPY IN SHOW
In 2011 Jack was #1 ACD RISING STAR
for Australia and #1 RISING STAR
All-Breeds for the Northern Territory
Dogzonline Pointscore

And here we will list the achievements yet to come!
He has now gained the titles Norwegian Champion, Norwegian Winner- 15 and Nordic Winner -15.

We have begun training in obedience and tracking.